concept and choreography: Martine Pisani

dancers: Tania Pieri, Francisca Pinto

scenography: Theo Kooijman

technical manager and sound desgin: Ludovic Rivière

duration: 50'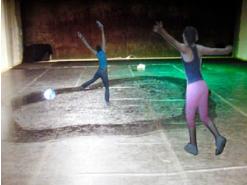 Created on the 19th of June, 2012 at Uzès Danse (F).
Production La compagnie du solitaire - Coproduction Musée de la danse-CCNRB, Rennes (F), Uzes Danse (F).
With the support of Centre national de la danse (Pantin), marseille objectif DansE, Montevideo, Arcadi (plateaux solidaires) and Théâtre Paris Villette (studio time).
La compagnie du solitaire is subsidized by the Ministère de la Culture et de la Communication-DRAC Ile de France.
what can an unstable body in an uncertain world? cosmos blues ...